My Blog
Posts for: October, 2017
By Oakland Dental Care
October 27, 2017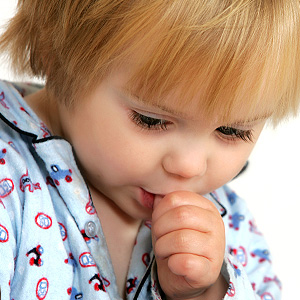 Although distressing to many parents, infants and toddlers sucking their thumb is a common if not universal habit. Most children phase out of it by around age 4, usually with no ill effects. But thumb-sucking continuing into late childhood could prove problematic for a child's bite.
Thumb sucking is related to how young children swallow. All babies are born with what is called an infantile swallowing pattern, in which they thrust their tongues forward while swallowing to ensure their lips seal around a breast or bottle nipple when they nurse. Thumb-sucking mimics this action, which most experts believe serves as a source of comfort when they're not nursing.
Around 3 or 4, their swallowing transitions to a permanent adult swallowing pattern: the tip of the tongue now positions itself against the back of the top front teeth (you can notice it yourself when you swallow). This is also when thumb sucking normally fades.
If a child, however, has problems transitioning to an adult pattern, they may continue to thrust their tongue forward and/or prolong their thumb-sucking habit. Either can put undue pressure on the front teeth causing them to move and develop too far forward. This can create what's known as an open bite: a slight gap still remains between the upper and lower teeth when the jaws are shut rather than the normal overlapping of the upper teeth over the lower.
While we can orthodontically treat an open bite, we can minimize the extent of any treatments if we detect the problem early and intervene with therapies to correct an abnormal swallowing pattern or prolonged thumb sucking. For the former we can assist a child in performing certain exercises that help retrain oral and facial muscles to encourage a proper swallowing pattern. This may also help diminish thumb sucking, but we may in addition need to use positive reinforcement techniques to further discourage the habit.
To stay ahead of possible problems with thumb sucking or the swallowing pattern you should begin regularly taking them to the dentist around their first birthday. It's also a good idea to have an orthodontic evaluation around age 6 for any emerging bite problems. Taking these positive steps could help you avoid undue concern over this common habit.
If you would like more information on managing your child's thumb-sucking habit, please contact us or schedule an appointment for a consultation. You can also learn more about this topic by reading the Dear Doctor magazine article "How Thumb Sucking Affects the Bite."
By Oakland Dental Care
October 12, 2017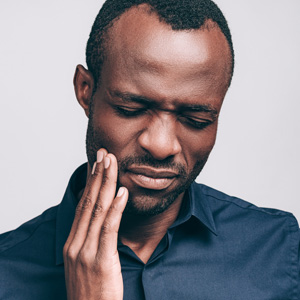 Your teeth and gums have a highly sensitive network of nerves. But while it can signal even the most subtle discomfort we may not be able to identify the cause with pinpoint accuracy. As a result, tooth pain could indicate more than one kind of problem including a decayed tooth, root sensitivity, infected gum tissues (like an abscess) or a dying pulp signaled by diseased nerve tissue inside the tooth.
On the other hand, not all tooth pain is the same: it can be dull or sharp, continuous or intermittent. It can feel like a constant, throbbing ache or a sharp wince when you eat or drink something cold or hot, or when you bite down. These differences could point our diagnostic examination in the right direction.
For example, sharp, throbbing pain could indicate deep tooth decay, especially if it suddenly stops. That would likely mean the nerves within the tooth pulp under attack by the infection have died and can no longer transmit pain. The infection, on the other hand is still very much active — this usually requires a root canal treatment (cleaning out the pulp and root canals of diseased and dead tissue and filling the empty spaces) if we're to save the tooth.
If, however, you're experiencing sensitivity from temperature or pressure, we could be facing at least a couple of scenarios. For one, your tooth could be fractured. More likely, though, periodontal (gum) disease triggered by bacterial plaque has caused the gum tissues to shrink back (recede) from the affected teeth so that the sensitive dentin layer is exposed and no longer protected by the gum tissue.
If we diagnose gum disease, we'll need to aggressively remove bacterial plaque from all tooth and gum surfaces. This procedure might require more than one appointment and the possibility of surgery if we encounter deep pockets of infection, especially around the roots. If gum recession is severe you may also need grafting surgery to replace the missing gum tissue or to re-cover the exposed areas of your teeth.
So, knowing the source of tooth pain will direct the course of treatment to follow. With proper treatment, though, the chances are good we can not only restore your teeth and gums to optimum health but we can end the pain.
If you would like more information on treating tooth pain, please contact us or schedule an appointment for a consultation. You can also learn more about this topic by reading the Dear Doctor magazine article "Confusing Tooth Pain."